Welcome to the very first edition of "Feedster." This is a daily kick-butt moment for every entrepreneur. It is a "Beefy but Breezy" synopsis of motivation and direction. Today we cover starting a new idea. 
I include cool links to current events while making a point. Typically the points relate to our weekly interviews. The entire goal is to give you a dose of motivation and reflection daily. Please share and comment frequently as we rely on feedback and sharing for growth.
This is the beginning of a very cool thing here at Feedster. While I realize this doesn't mean much today… I like writing First Posts to capture the moment of the start. I love to throw out a mental bookmark even if it is just for myself.
From Homeless and Addicted To Marketing – How Online Marketing Saved My Life via feedster.com
I use this "bookmark" to place a checkpoint with a Time and Date stamp. Anytime I am starting a new idea we have to focus on goals and benchmarks.
How Many Times Have You Looked Up And Been TOO Busy… To Start A New Idea
I find myself busy. I find myself doing what I did yesterday. Without Goals, Hopes, Dreams, and Aspirations… I stay there.
That is what the "mental" starting point does for me. It serves as a time stamp that I should be hitting benchmarks with my time. Not just "serving" the cause.
What Do Mega Brands Do About Starting Something New?
Below I flow through a cool story that breaks down someone starting a new moment for him. I want to first remind us all that:
No One Else Cares And No One Else Will Remember Your Idea
When you are beginning something new or starting your own website, business, or new venture…
If you don't have a regular checkup or check in dates you can get lost in the operations.
Starting Points For Your New IdeaAnd How You Get There!
Take Taco Bell / Pizza Hut's CEO as an example. For Brian Niccol, March 5th will obviously be a clear starting point. His execution of Chipotle's new business development will begin being judged at that point.
In case you missed it, Brian was announced as the next CEO of Chipotle. The brand needed… an um… change. They Didn't need to start a new idea. They needed help!
Chipotle's Latest Struggles Are A Sign That They Need A New, Big Idea
Here's how Chipotle could change when Taco Bell's CEO takes over
Brian is a risk taker of sorts. He loves the "show." He captures consumers through new and trendy techniques that get them to fall in love with the story of the brand. He engineered Scope's Mouthwash Kiss Off Campaign. This was a hit and put Brian on the map. It also was a glimpse of his "genius."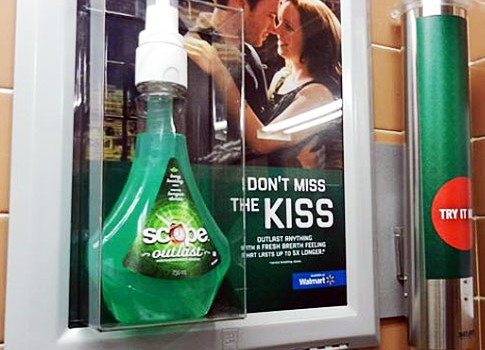 read more at mediaincanada.com
Brian loves technology. He embraces it. Pizza Hut pioneered the space of ordering a Pizza online. This was only being done by a Pizza chain in New Zealand. Brian realized it offered accuracy and convenience.
Yum partners with Grubhub for online ordering, delivery
Brian operates like the Profit. He walks into Taco Bell stores and takes the "tortilla" making employees advice.
Niccol once visited a Taco Bell and saw that employees were using tortillas to make miniature wraps. This became the inspiration for Taco Bell's crunchwrap sliders.

"Taco Bell's sales were up 5 percent last year, growing nearly $500 million, and Niccol's been instrumental in looking at new avenues for growth — like breakfast — and has overseen the chain's menu innovation activities, which have really helped drive traffic and sales growth," David Henkes, principal at Technomic, told CNBC via email.
So Brian passes the eye test. He has a history of great moves and success. He was not a "Blue Chip" recruit but more of a sensible person that related well to developments. His "bets" seem to be paying off. That is trendy. Making good decisions and seeing success surrounding technology gets people talking. What can you learn from Brian?
What You Have To Apply Today From Taco Bell?
You are starting. Maybe you started. Either way, you have to benchmark performance. If you are hitting benchmarks then take the level up one notch.
Take your partners, employees, and other critical members of your team's habits into consideration. They know your business and customers. Learn what they are doing that isn't "textbook." Don't berate them for it. Adapt it.
If you don't have something started then start. The journey is the fun, the present (in both senses of the word), and you can't measure what you don't manage. If you are failing at managing to start then focus on starting today!
This entire newsletter is a project of curation. We take a few "cool" stories and form them around a title and point. If you would like to learn more about that process then email me will @ Feedster.com and let's talk about it. We are pretty excited about it!
Images from inc.com, uproxx.com, cnbc.com, mediaincanada.com, nrn.com
Featured Image Made On Getstencil via feedster.com