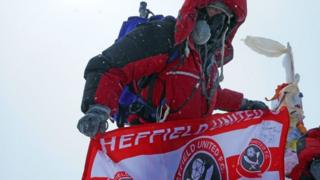 A terminal cancer patient who has been told he has just months to live has conquered Mount Everest.
Ian Toothill said he believes he is the first cancer patient to scale the world's highest mountain.
The Sheffield Wednesday fan planted a flag of rivals Sheffield United at the summit for charity.
The 47-year-old personal trainer, who reached the summit on Monday, has raised almost 31,500 ($40,600) for Macmillan.
He tweeted: "Nothing to see here, just some cancer dude [Sheffield Wednesday] fan on the summit of Everest with a @SUFC_tweets flag."
Live updates and this and other stories from Yorkshire
Mr Toothill, originally from Sheffield, lives in Willesden Green in London and has climbed in the Himalayas.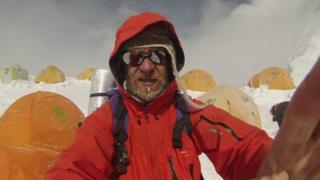 He was diagnosed with bowel cancer in June 2015 and told in early 2016 that he had beaten the disease, but later found out it had returned.
He said he has been told he has "just several months left to live".
Speaking to BBC Radio Sheffield in February, he said: "I'm determined to prove anything is possible."
'Amazing achievement'
He reached the top of the North Col route on 16 May and the summit of Everest on 5 June.
Miss NJP tweeted: "What an amazing achievement and a wonderful moment for @IanToothill. Feeling emotional. So glad you made it to the top #climbingforcancer".
The Sheffield Wednesday fan planted the rival Sheffield United flag at the summit after a friend donated 1,000.
Mr Toothill was accompanied part-way of the climb by Leslie Binns, from Rotherham, who abandoned his climb to the summit after saving the life of a fellow climber last June.
His fundraising bid raised almost 31,500, beating the target of 29,100.