Darien Dash was born in New York City in 1972 to a family heavily established in the media business industry. His stepfather, Cecil Holmes, was a record executive with the major East Coast label Casablanca Records, his first cousin, Damon Dash, is a cofounder of Jay-Z's world-renowned label Roc-A-Fella Records. With these strong connections, Dash knew from a young age he would somehow be working within the industry. Throughout his childhood, he also excelled in academics, which earned him entry to one of the top universities in the country – the University of Southern California.
While attending USC, Dash majored in political science while simultaneously participating in various extracurricular activities, which included collaborating with his cousin Damon. The duo started negotiating deals on behalf of local artists such as Rock-A-Fella. They found great success in this industry – Dash earned over $200,000, which was an astounding amount for a college student in the 1990s. However, Dash did not stay on this path. Instead, he continued to attend college while maintaining his involvement in positive causes within the African American community. Dash reports, "For me, the record business felt like a dead-end street. It's kind of like sports. Twenty million kids start out playing basketball, but only 1,600 of them ever make it to the NBA. The chances are very slim that that will be the way out." This was insight that not many young students would have recognized, and his decision to continue onwards despite major financial success set him up for an unexpected future. 
During his studies, Dash was introduced to the book Megatrends. Written in 1982, it identifies and explores ten basic trends that were restructuring and redirecting American life, optimistically defining the ways in which America was changing socially, economically, politically, and spiritually. More specifically, Megatrends predicted that technology companies and media companies that made use of new technologies would rise to previously unimaginable positions of dominance. According to Dash, "It predicted wealth would be transferred from captains of industry to barons of technology." Dash recognized a future opportunity related to the internet and was determined to become a part of that influential sector.
Developing a Foundation
Following graduation, Dash took a position as sales and marketing director for DMX, or Digital Music Express. At the time, DMX was the first cable service that TCO distributed as a separate set-top box, offering thirty channels of CS-quality music twenty-four hours a day. Dash was not satisfied with the restrictions related to the company's distribution. Growing up in the music industry, he was passionate about selling and marketing Latin and African American genres; however, the company regulated installing boxes in urban areas because it believed that this demographic would not pay their dues and would not return the equipment when necessary. Instead of subscribing to the restrictions of the corporate world, Dash decided to pursue a missed opportunity. In 1994, he took a leap of faith and started his own company – DME Interactive Holdings Inc., a technology firm focused on expanding the hardware and software infrastructure within minority communities. Dash desired to create "a business that wasn't hamstrung by misperceptions of poverty."
The beginning was not easy, but Dash's persistence led to him becoming the owner of the first company owned by an African American to be publicly traded in United States history – an accomplishment that no one could minimize. In the beginning years, Dash strategically worked with a small handful of investors (primarily friends and family) to build his company, although the majority of his funds were self-provided. He focused on producing multi-media CDs and building websites for record companies, and later expanded to building back-end computer systems to get client e-commerce capability. At a time when the internet had limited availability, Dash foresaw the future and started building opportunities for his clients before many firms that already existed.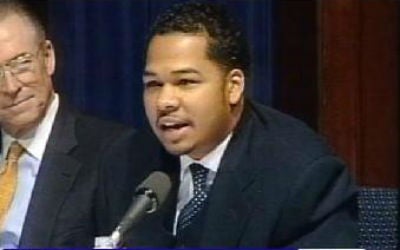 Over the next four years, Dash continued to dedicate his efforts to his dream. He networked when possible and took advantage of all opportunities that were presented. Although at first, he did not have great success finding venture capital, he did not give up. Finally, in 1999, he met with Mason Hill, an investment bank, with an innovative idea and transformed the company forever. Mason Hill suggested that DME Interactive Holdings Inc. pair with Pride Automotive Group in a reverse merger. According to Dash, "They paired us with Pride Automotive Group, which no longer wanted to be public. A car-leasing company had nothing to do with us, but we wanted to gain their public status on the OTC. So, as a by-product of the merger, we became the first publicly traded black Internet company."
Establishing A Strategic Partnership to Overcome the "Digital Divide"
By 2000, Dash had his company established but still found that the communities he had been targeting were not gaining the access that he had desired. The primary problem was still related to the cost of accessing his product – although broadband was becoming more readily available, dialup services were still the norm. These services were extremely expensive, especially for those living in urban neighborhoods. At the time, this was recognized as the "digital divide" – the technology gap between the rich and the poor. Therefore, Dash decided to partner with AOL in a joint venture called Places of Color, an online portal that offered news, entertainment, and interest services to urban minorities. The partnership gave AOL a 5 percent stake in DME Holdings, and in turn, DME marketed AOL products on the platform. The major benefit to Dash was that the platform offered a less expensive alternative that allowed minority households to access the internet while also viewing content that was tailored to their interests as well as the issues that most affected their lives.
In addition to partnering with AOL, Dash took alternative initiatives to get his product available. He knew that the other problem was the lack of access to computers, which was necessary to get Places of Color. Therefore, he launched an initiative to get the hardware into households by selling PCs for $150 – the same cost as a new pair of high-end sneakers. At the time, Dash reported: "It's a part of our larger strategy. When we go in and give away product, we hope that the person will sign on to our service, find that it's a quality service, and recommend it to a friend. And I also think that it's important that we go out and wire those communities, period. I don't believe in digital welfare; that's not what this country needs. But I do have a covenant. I have a pact. I have a commitment to a higher power to expand the hardware and software infrastructure within minority communities. Thankfully, we've found a way to do good and monetize that mission."
Darien Dash: A Visionary of the Bigger Picture
The success that Darien Dash has experienced is a direct result of his ability to see the bigger picture and engage in opportunities that promote his overall dream. In the early 1990s, Dash could have settled for making millions working in the music industry. However, at the time, he recognized that "the game was rapping, being an entertainer, or going into sports. There is nothing wrong with that, but they're saturated businesses. When you're successful in those games, you'll end up a multimillionaire. But when you're successful in the online game, you're a billionaire."
Furthermore, when he was working at DMX, he could have settled for building his reputation within the company and climbing the corporate ladder. But again, he saw the bigger picture. "The African-American market [was] a $553 billion market, Hispanics $490 billion. That's a trillion-dollar economy just between those two demographics. Continuing to ignore the significance of that buying power just [didn't] make sense."
He never settled and continues to see the potential for the future. One book led him on a path of unexpected growth, and Dash continued to implement this mindset over the next three decades. He created a consulting arm for DME that helped major brands market to African American communities. He worked with clients such as Visa, HBO, Microsoft, Black Entertainment Television, and many others.
Today, Darien Dash is one of the nation's most highly sought-after strategic advisors. He is an active advisor to C-suite executives, government officials, hedge funds, private and commercial banks, professional athletes, entertainers, entrepreneurs, ultra-high net worth investors, and multi-family offices. He acts as managing director for The Movement Management Advisors, director of Dunkin Donuts Franchise Growth Partners, and director of 414 Media Advisors. Even after thirty years in the business world, he continues to seek new opportunities and thrives in what he does.